The Hostage Hippo!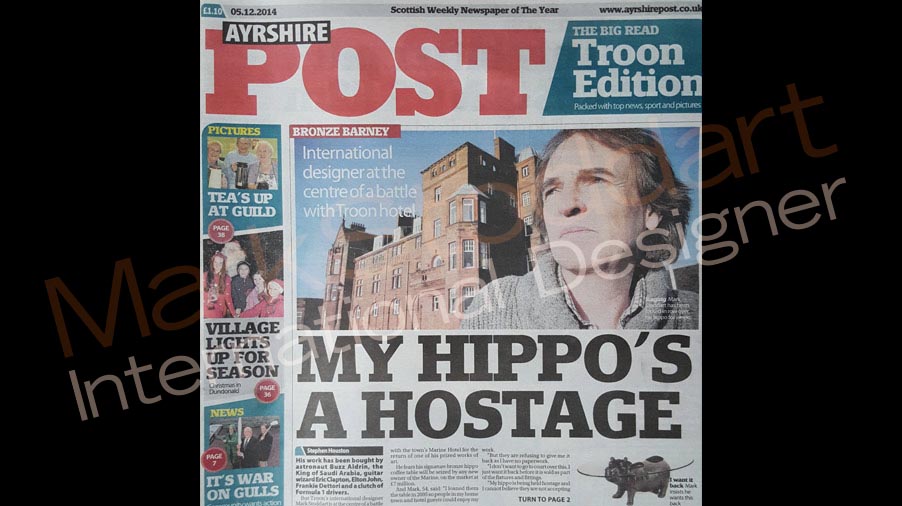 Not only is Mark widely known for designing and creating stunning bronze tables for his long list of customers worldwide, but he is also renowned for his generosity and loans some of his most popular pieces to venues, charities and galleries for them to enjoy. He did this for many years without a hitch, until one day, his 'Childhood' table became the centre of a hostage situation.
Back in 2014, Mark went head-to-head with a local hotel in Troon after it was put up for sale. Not wanting his prized table to be sold as collateral, Mark requested that the loaned table be returned to him, but the hotel had other ideas. His 'Childhood' coffee table had been loaned to the hotel in 2005 and resided in pride of place in the lounge bar for the enjoyment of the local community as well as the hotel guests. The special table was number 34 out of just 99 made by Mark.
However, three years later the situation changed, with the hotel in turmoil and up for sale, Mark was concerned his table would be sold as part of the "fixture and fittings". The hotel and its head office argued that Mark had in fact gifted them the table rather than loaned it, and as there were no original staff remaining to confirm such agreement, the two parties went to war. Mark was left with no option and campaigned to get his hippo table released from its unfortunate hostage state. This meant one thing, Mark was planning a rescue mission... Keep your eyes peeled for the next instalment to find out what happened to Mark's hippo table.
BACK TO NEWS