Mark's Bespoke Bronze Table – The Ship of Dreams
Mark is most commonly known for his beautiful bronze wildlife designs – more specifically his collection of hippo inspired tables. However, wildlife isn't Mark's only forte, his tables span an array of subjects, take for instance the bespoke Titanic coffee table that he created back over 20 years ago.
Referred to as the ship of dreams, Mark aimed to capture the dreams and passions of the passengers onboard setting out from Southampton on the 10th April 1912 headed for New York, America on a voyage to a new life. The cradle effect that supports the glass represents the old 1800's compass that used to rock back and forward on the bridge of the ship. The glass represents the water line as the Titanic sails through the waves with the compass set in the sailing direction.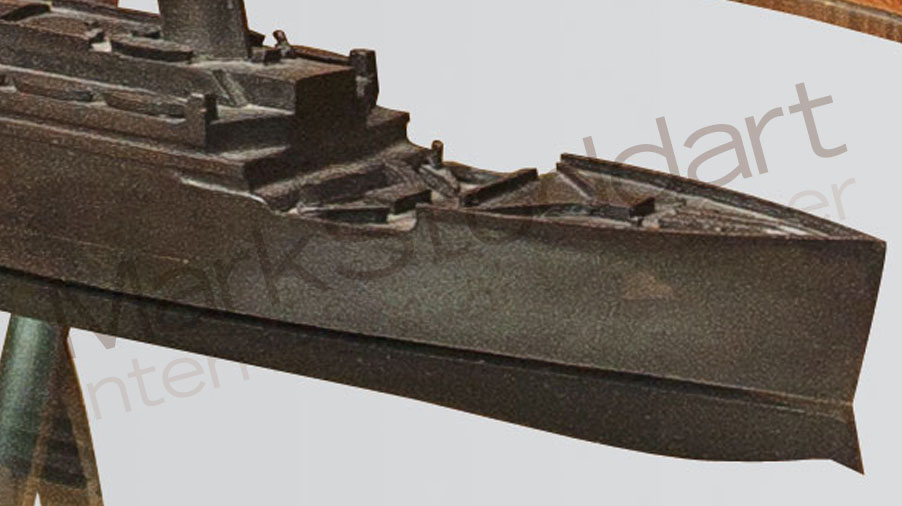 During its lifetime, this incredibly beautiful and unique table has amassed a number of passport stamps in its own right. Displayed in New York, London, Dublin, Glasgow, Las Vegas, Chicago, Monaco and Southampton, it has been viewed by many admirers across the globe.
[image courtesy of The Daily Mail]
At the Southampton Titanic Society – where the table rested for a while – Millvina Dean (the last survivor of the Titanic) saw Mark's table and loved it. After it's lengthy travels, the Titanic table currently resides in the bay window of the Titanic Suite which includes the original bathroom suite from its sister ship, the Olympia, at the Pool House Hotel overlooking Lock Ewe in Wester Ross, Scotland. Margaret, one of the Hotel's owners, is in fact related to the Captain of the Titanic.
Although the real Titanic might be gone forever, a little piece of it is captured in Mark's stunning bronze table, right down to the tiny details. We think you'll agree when we say, this table is the table of dreams.
BACK TO NEWS